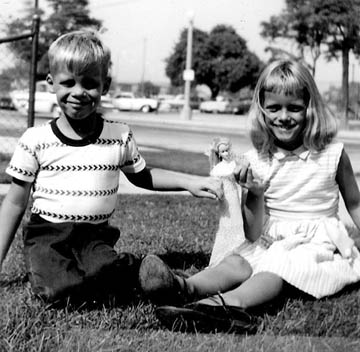 My brother, Scott; Barbie (with head intact), me

My wittle brother, John
(whom I nicknamed Jon-Pon)
Then . . .

. . . and Now
5. Did you have any pets when you were a kid?
I l-o-v-e cats. My first word was 'pissy' – which in my one-year-old brain translated to 'pussy cat'. Growing up, we always had at least one furry feline around the house. I also had an aqua-colored parakeet named Cherie Tweet. I taught her to say: Pretty Boy, Happy Birthday, Merry Christmas, and Here, Kitty! Parakeets have a hard time remembering words with more than three syllables, so most of the time she'd say: Happy Birth! Merry Chris!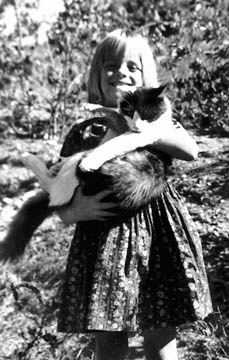 My first cat, Pit-a-Pat
6. Do you have any pets now?
Three cats: Mai Tai, Koloa and Papaya (nicknamed Stinky. Don't ask why. You don't want to know.)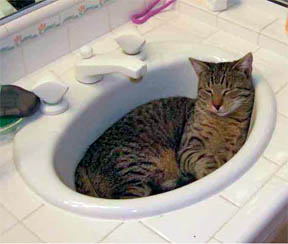 Papaya, napping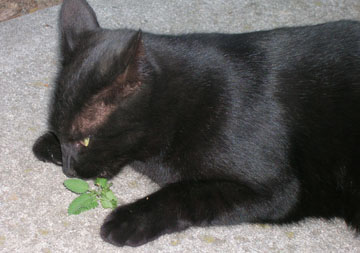 Mai Tai, in a serious confrontation with catnip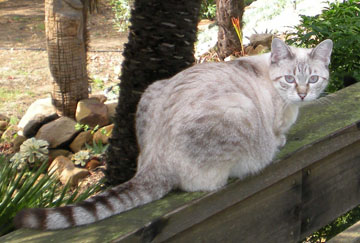 Koloa, who is named after a little town
on the island of Kauai, Hawaii
7. Are you married?
Yup. His name is Craig Jaffurs and I dedicated two of my books to him. (I'll send you a free autographed book if you can tell me which two!) He likes to surf, backpack, mountain bike, camp, and fly fish. He and I own a small winery in Santa Barbara called Jaffurs Wine Cellars. http://www.jaffurswine.com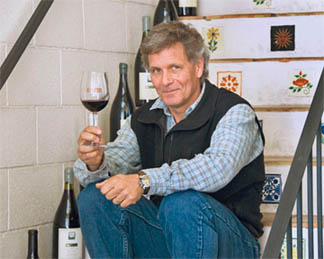 8. Do you have children?
A son, born in 1996. Patterson is a brilliant kid, of course. A whiz at math. Loves to read, especially fantasy. He's annoyed I don't write that kind of stuff.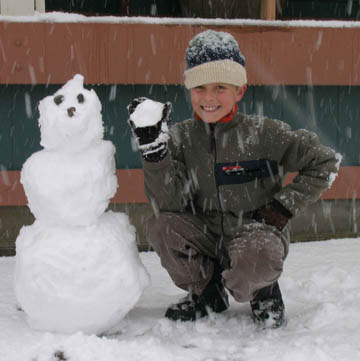 Patterson, at around age 9, making a snow cat.
The love of cats is genetic, obviously.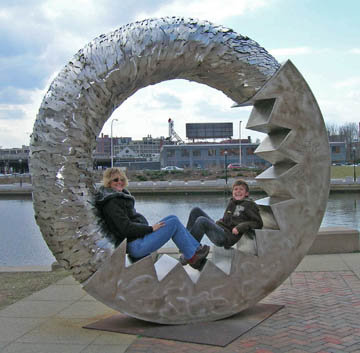 Me and Patterson in a Rhode Island doughnut Spring 2008
8. How many books have you published?
As of today (sound of Lee counting on her fingers) . . . 25. I have three new books coming out in the next three years. And I'm busy writing more.
9. How many books have you written?
I'm not sure. I've filled a couple of file cabinets with stories, poems, songs and half-finished novels that I've written over the years. A lot of them will probably never get published. That's because they're what I call 'Litter Box' writings – stuff I thought was soooooo good when I wrote it Long Ago, but now might be more useful as lining for our cats' litter box. (They are shaking their heads, No. They prefer the Sunday comics.)
10. Did you like writing when you were a kid?
Yes! I wrote my first book, Teena Belle, at the end of second grade when I was seven years old.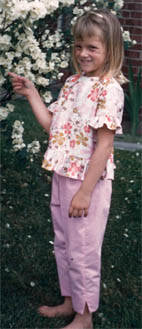 Me, at around age 6 1/2
11. What was your first book about?
The main character in Teena Belle was a girl just like me – skinny, brownish hair, crooked smile – only shorter. She was one-inch tall! I modeled her after Tinkerbell (from Peter Pan) and Thumbelina (from the story by Hans Christian Anderson). Teena Belle's best friend was a lime-green grasshopper, with extravagant antennae, who let her ride on his back. The two of them ran away from home when Teena Belle's mother asked her to assist with diaper duty. (Teena Belle had 14 baby brothers and 14 baby sisters!) My youngest brother, John, had just been born, so I was expected to help with a lot of stinky diapers. I'm sure that's where I got the idea for this book! I don't remember any of the adventures that Teena Belle and the grasshopper experienced. I do remember, though, that Teena Belle got swept out to sea on the last page because I couldn't think of a way to end the book.
Yeah, you're right. The book wasn't great. But I had such a great time writing it, that from then on you could almost always find me holed up in my room with a notebook and pen.
12. What other stuff did you write when you were a kid?
Some of the things I wrote were:
*Poems
The first one was a ballad called "The Midnight Ride of Mouse Revere" about a brave rodent who scampers through town squeaking: "The Cats are coming! The Cats are coming!"
*Plays
I wrote an adaptation of Rumpelstiltskin and an original musical called "Girl Meets the Beatles", which was about how a beautiful girl – me – is invited by the Beatles to join their group because she has such an amazing singing voice. (I didn't and don't.) My friends and I designed sets and costumes, and performed the plays for neighbors, family and friends, charging 10 cents for admission.
*Songs
In 6th grade I belong to a rock 'n' roll girl group called "The Shooting Stars". We sang mostly songs by The Monkees. But I wrote the lyrics for one song called song "Babe, What's Wrong with You?" The boy I had a mad crush on wrote the tune; he and his band, The Sounds of Time, played it at all their gigs.
*Magazines
Yes, I really designed my own magazines. I wrote the articles, advice columns and ads, using pictures cut from other mags. I named one of my fashion magazines Pride. I had a circulation of one: my best friend, Kristi.
*Novels
I wrote two in 6th grade. One was a mystery about a giant green hand that floats around in the secret tunnels beneath an old mansion. He, er, It, strangles people and burns them with an oozy green acid. The other novel was an adventure story about a 7th grade girl who gets shipwrecked. She floats around the Pacific Ocean until rescued. I had a thing for floating, I guess.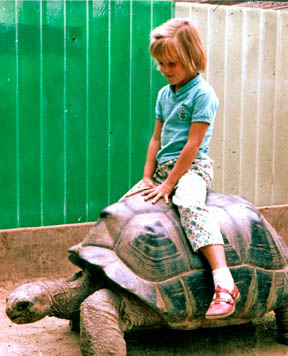 Me, at the San Diego Zoo, riding something else that floats.
12. What made you want to become a writer?
The first book I could read all by myself was P.D. Eastman's Go, Dog, Go. Wow. I was woozy with pride! I mean, what an accomplishment to read that book over and over and over read again to my little brother, Scott! (And he didn't even like dogs!) I couldn't imagine a better feeling than that, except maybe writing a book all by myself. So, at age seven, I gave it a try. I've been writing ever since. (Lee Trivia: the first book my son could read all by himself was Go, Dog, Go!)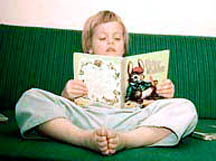 I always loved books!
13. Where do you get your ideas?
Most ideas for my books come from my own life. Corey's Fire is based on my family's experiences after our house burned down in a wild fire. The idea for Dinosaur Pizza came from my elementary school days, when at lunch no one wanted to share my BMPC's (bologna-and-mustard-and-potato-chip sandwiches. Mmmm, zesty!). My brother's dorky Halloween costume (cowboy hat, boots, holster and underpants) led to my book The Ghoul Brothers. The Hawaiian folk tale Punia and the King of Sharks was inspired by my love of the beach and Hawaii. I also get lots of ideas from reading magazines and newspapers, and from eavesdropping on kids.

Cowboy Scotty


At the beach in Santa Barbara.
What a motely crew!
14. What was the first book you wrote as a grown-up?
A short chapter book called Me + Math = Headache. I was a college student when I started writing it. The first sentence of that book is: "I flunked another math test today." That's something my mother heard a lot from me when I was in elementary school, junior high, high school . . .

My first published book . . .and my first author photo 1986
15. How old were you when your first book was published?
I wrote Me + Math = Headache at age 19. It wasn't published until I was almost 30. Eleven. Long. Years. Can you spell P-A-T-I-E-N-C-E? Can you spell
R-E-J-E-C-T-I-O-N L-E-T-T-E-R-S?
16. What was the first novel you wrote for young adults?
Corey's Fire, a story about a 14-year-old girl who loses her home and neighborhood in a wildfire. This story is TRUE. My family's home was destroyed, along with 299 others, in a fire on July 26th, 1977. I lost almost everything dear to me in that fire – my favorite Barbie doll (she had pierced ears) and my Chatty Cathy; the only copy of Teena Belle; love letters from my first boyfriend; even my cat. A lot of the scenes, situations and emotions in Corey's Fire come straight out of Real Life – mine, my brothers', our neighbors'.
Incidentally, this was the first book I sold, but it was not my first published book.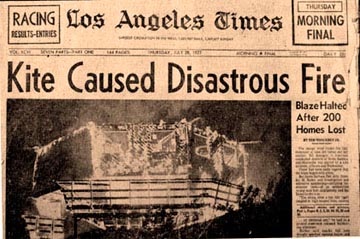 My family's home, featured on the front page of the Los Angeles Times.
Our house, after the fire.

My first young adult novel!

It's dedicated to my mom, Scott and John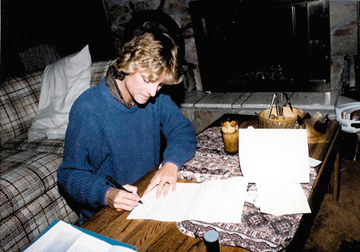 Signing my Very First Contract! Corey's Fire, Fall 1984
17. Did you have a happy childhood?
Yes.
No.
Ness!
Actually, I don't think anyone has a totally happy childhood. You have good times and not-so-good times. And what matters most is how you deal with both. Do you let that the bad stuff rule you, drag you down, stomp you flat? Or do you stand firm on your feet and try to learn from it what you can – and brush aside the rest? Yeah, it definitely wasn't a 'happy' time when my parents got divorced or when my house burned down. But I lived through both. I learned from both. And I turned both into good books!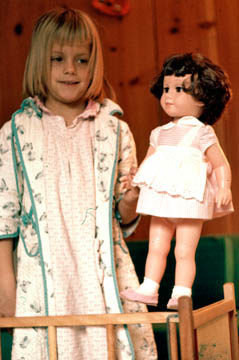 Me, the year I got a Chatty Cathy for Christmas.
18. What are some things you like to do when you're not writing?
I love to read. (Duh.) I also like bodysurfing and swimming; reading; listening to music (I play great air guitar and air drums!); reading; hanging out with my son; reading; beach-combing for sea glass; reading; tickling my cats; reading; studying American history; reading; going to Disneyland, reading and answering fan mail. Oh, and I like to read, too!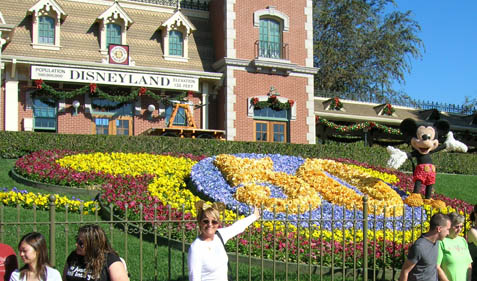 Lee at Disneyland, the year both of us turned 50.

INTERMISSION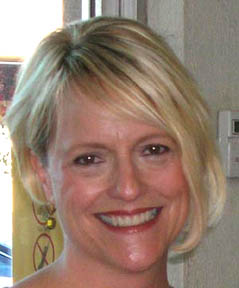 More Questions and Answers to come.
Check back again soon!