Best friends Nick and Chip decide to dress up as a two-headed ghoul for the neighborhood Halloween party. The two boys just know they're going to win the grand prize for Best Costume. But then Nick's little sister has to tag along, and it looks like she's going to ruin everything for The Ghoul Brothers. Find out what happens when the ghouls bend the rules and Nick's little sister comes up with some spooktacular surprises!

Read an excerpt from Chapter Two of The Ghoul Brothers:
On Halloween, Chip and I went to my house after school to get dressed for the party.
We locked ourselves in the bathroom to do our make-up and costume.
Half an hour later, Chip wore a crumpled hat, sunglasses and an oozing gash on his forehead.
I wore a pirate patch over one eye, a ratty wig, and a ragged scar on my cheek.
Next, we struggled into a big wool coat I'd borrowed from Dad. Chip put on the left sleeve, and I put on the right. Then we squished together and buttoned the coat up the front.
We admired ourselves in the mirror.
"We look spooky," Chip said.
"Scary," I agreed.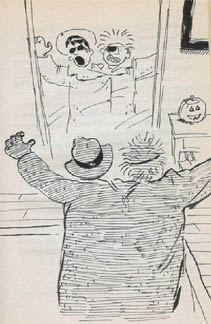 "Um, what are we again?" he asked.
"A two-headed ghoul."
"Oh, yeah. That's right." Chip bit into a potato chip. "Um, what's a ghoul?"
"Well, it's a . . . sort of um . . . kind of like . . . " I cleared my throat. "I can't remember exactly. Let's look it up."
Dad's coat reached to our ankles, so we had to shuffle to my bedroom.
I opened the dictionary. "Ghost . . . ghost town . . . ghost
writer . . . here it is! Ghoul." I read aloud: "An evil spirit that robs graves and feeds on the flesh of the dead."
My stomach flipped a somersault.
Chip's face turned green under his gash. "Gross," he said.
"Maybe we could be vegetarian ghouls," I suggested.
Chip nodded. "If you won't tell, I won't tell."
"And I won't, if you won't."

"It's settled then. We won't tell!"
The Ghoul Brothers
Text copyright by Lee Wardlaw,1996
Illustrations copyright by Brian Floca, 1996

Visit Brian Floca's website: http://brianfloca.com/

GHOULISH LINKS