Gloriously lighthearted illustrations by famed artist and New Yorker cartoonist Ronald Searle embellish these tall tales by Lee Wardlaw. Grandpa Cat bubbles with good humor and mischievous wit as he regales his grandchildren with stories about Billy the Kitten, the Fastest Paw in the West; Diamond Jim Kitty; the Great Tabby Houdini; and Miss Kitty Hawk, the cat who was determined to fly. A sparkling visual feast as well as a delight to read, this is a book that's sure to become a favorite with readers of all ages.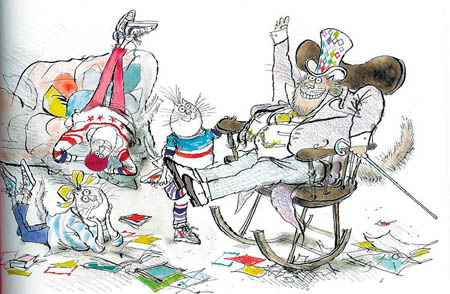 Publisher's Weekly: "Antic illustrations accentuate the hilarity in Wardlaw's brisk cat-tale…Wardlaw has an instinct for the catchy hook, and the dialogue is especially deft. Searle's drawings radiate enthusiasm."
Kirkus: "The stories are playful attention-getters and come to a fine, loopy conclusion. Lending a note of cracked sophistication are the lunacies of Searle's watercolor treasures."
Hornbook: "Exuberant and lively…the watercolor and ink pictures add humor to a story just right for reading aloud."
Children's Book Review Magazine: "Wardlaw's writing is full of word-play, a perfect representation of the spirit that unites the two generations. Though cats are her vehicle, Wardlaw never loses sight of what makes kids purr: the delights of surprise and the silliness of over-statement. Searle's visual frolics are filled with color, whimsy, wildness, and hidden jokes that cat-vort across pages waiting for discerning children to pounce."
Booklist: "Expressive personalities…nattily dressed males and flamboyant females frolic colorfully through the stories, with Grandpa achieving the aspect of an eccentric flimflam man. For kids ready to venture beyond vocabulary-controlled materials as well as for those who can't get enough about cats."
Wilson Library Bulletin: "Searle brings an indispensable aura of glee…[and his] images vibrate with their own joviality, adding definition to Wardlaw's harebrained cast…elegant, intuitive, and gently derisive…will elicit laughter."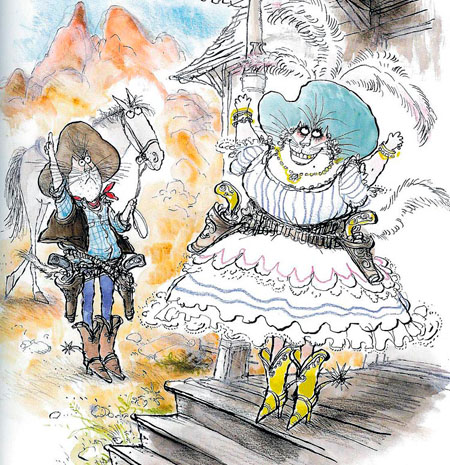 Senior Magazine: "[An] engaging story…enchantingly illustrated..."

CATS Magazine: "…gently teaches children the value and wisdom of older generations and helps them replace stereotypes with individuals. Wardlaw's facile and funny text is brought to life by Searle's clever illustrations."
Cat Fancy: "…a delightful collection of tall tales and amusing drawings."
A New Day, The Magazine for Retirement Home Activity Professionals: "…brilliantly illustrated…a great avenue to unite youngsters and seniors…every reader will be enthralled when Grandpa reveals the best surprise of all…"
The Sonoran Democrat: "A delightfully written and humorous look at an age-old theme, the generational tussle to reach a level of connection."