Hic-Hic!
Hector has the hiccups!
His older brother and sister want to help.
They try everything –
having him hold his breath,
putting a paper bag over his head,
scaring him with a gorilla mask
– all with hilarious results.
Nothing seems to work,
until they come up with the best cure of all…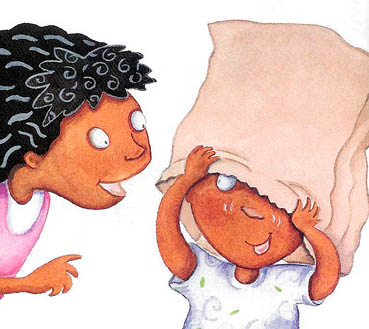 Horn Book: "Easy sentences, mild humor, and child-driven problem-solving make the story a good choice for beginning readers. Water color illustrations effectively support the text."
School Library Journal: "…[a] solid choice for beginning readers…[with] a light touch of humor…[this book has] short sentences and large print with colorful illustrations on each page…the engrossing [story] and pleasing pictures provide the incentive to decipher the more complicated text. "
Parent Council: "…a fun easy-reader that children can identify with…"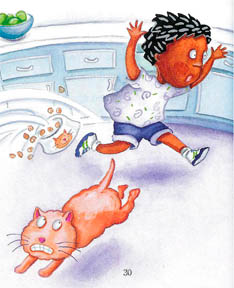 Excerpt from
Hector's Hiccups:
"Hic!" said Hector.
His brother, Carlos, stopped drawing.
"Did you hear that?" he called.
Their sister, Maria, looked out
of the tree house.
"I didn't hear anything," she said.
"Hic-hic!" said Hector.
"I think it's coming from Hector,"
said Carlos.
Maria climbed down from the tree.
"Time for a visit from Doctor Maria,"
she said.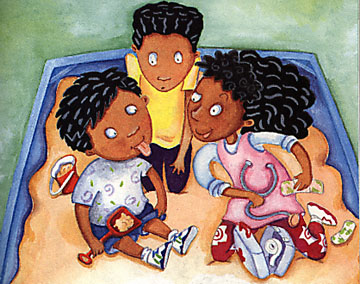 Maria opened her doctor kit.
"Stick out your tongue
and say ahhhh, Hector," she said.
Hector stuck out his tongue
and said "Hic!"
"Uh-oh," said Maria.
"Hector has the hiccups!"
"Hic! Hic-hiccup!" agreed Hector.
Maria giggled.
"He sounds like popcorn,"
she said.
"Maybe he ate a grasshopper,"
Carlos teased.
"It's hopping inside his tummy.
Like this!"
Carlos jumped up and down.
"No hopper!" said Hector.
"Hic! Hic-Hiccup!"