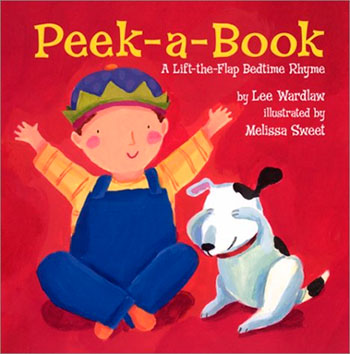 Peek-a-Book
A Lift-the-Flap Bedtime Rhyme
By Lee Wardlaw
Illustrated by Melissa Sweet
Dial Books for Young Readers
Ages baby-Preschool
$10.99
Peek-a-Boo! Who do you see?
Peek-a-Mom,
Peek-a-Me!
Munch-a-Bunch.
What's this green?
Peek-a-Yum,
Peek-a-Bean!
Have you ever played peek-a-boo with a young child? Isn't it amazing how they delight in the game over and over and over again?
With its bright, bold illustrations and warm, rhyming text, Peek-a-Book promises that same type of repeat enjoyment. Following a young boy through his going-to-bed ritual – -from bath-time to the essential search for the favorite stuffed animal - - this sturdy book will surely become a dog-eared favorite.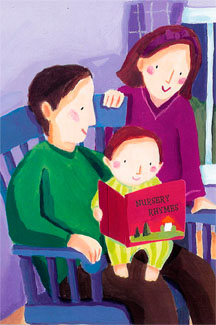 A Favorite Bedtime Story, TimesUnion.com
A Chinaberry Catalog Selection
"Jaunty rhymes and clear pictures carry a young listener happily through a toddler's day. . .small children will like memorizing the flaps and confirming that their world is reliable. As a bonus, because the words in the rhyme are phonetic, early readers will have an easy time with this book, providing a second round of enjoyment."
– StrongBrains.com
"Young ones will delight in this charming little book, perfect for setting the mood to end the day."
- Chinaberry Books
Lee Wardlaw takes the classic peek-a-boo game and turns it into a clever bedtime rhyme. Each of the sturdy pages has a peek-a-possibility . . . Melissa Sweet's appealing gouache illustrations reveal a smiling and relaxed household.
- Jody Fickes Shapiro
Adventures for Kids